■ Product Description And Specifications
We are the integrated solution supplier of dry mortar production line(Factory), provide you quality verified equipment, formula process, raw material of additives, and good after-sales services. Escort for your success!
Product Description
MGDM-3.0 Simple dry mortar production line
What is dry mortar:
Dry mortar is also called pre-mixed mortar, which made in the factory by precise batching and uniform mixing. It can be used directly just by adding water in construction site. It has different properties though adding different additives. The demand for dry mortar has increased rapidly due to its outstanding merit compare to the mortar production in job-site.
Raw material of dry mortar:
1. Cementing material: cement, lime, plaster.
2. Aggregate: yellow sand, quartz sand, limestone, dolomite, expanded perlite etc.
3. Mineral admixture: industrial byproduct, industrial slag, fly ash, pozzolana, fine silica powder etc.
4. Water-retention and thickening material.
5. Chemical additives.
Description of MG simple dry motar production line:
MG series simple dry mortar production line is designed based on the traditional mixer, is added a material conveying system, a storage bin and an automatic filling machine. The well-mixed materials will go into the storage bin via material conveying pipe, and the mixer may be feed consecutively and work continuously in flow line production, but the equipment is not over 4 meters high, thus solving the problem of heightening the workshop. Moreover, it may realize automatic metering and filling, hence, it may not merely save the time and energies but also may be more accurate. Requiring little investment, but it may load, weight and package the materials automatically; no wondering, it is a simple but practical production line.
MG Simple dry mortar production line working site: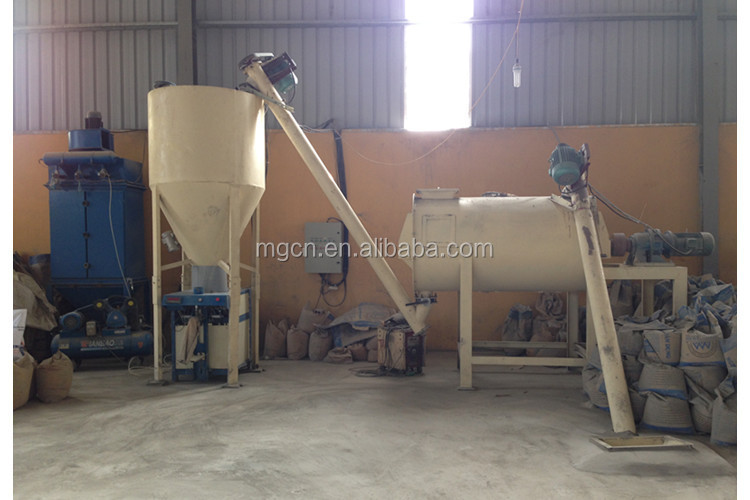 Flow chart of MG Simple dry mortar production line:
MG Good quality ribbon mixer equip on the Simple dry mortar producton line:
Technical parameter of MG Simple dry mortar production line:
Model

Out put

Occupied area

Equipment height

Batching and packaging

Simple type

3-4t/h

20m2

3-4m

Manual batching

Automatic packaging

Semi-automatic type

5-8t/h

50-60m2

6-7m

Manual batching

Automatic packaging

Full automatic type

8-30t/h

60-65m2

7-8m

Automatic batching

Automatic packaging



Application of MG dry mortar production machine
The dry mortar production line can produce the following dry mortars:
Bonding mortar: Masonry mortar, wall and floor tile adhesive mortar, anchorage mortar etc.
Decoration mortar: Decorative plaster, inner and outer wall putty, colorful decoration mortar etc.
Protection mortar: Water-proof mortar, anti-corrosion mortar, self-leveling mortar, wear resistance mortar, thermal insulation mortar, sound insulation mortar, repair mortar, mildewproof mortar, shielding mortar etc.
■ Certifications
Certifications of Zhengzhou MG factory for the Simple dry mortar production line:
■ Customer Visiting
Foreign customers visit our factory for the Simple dry mortar production line: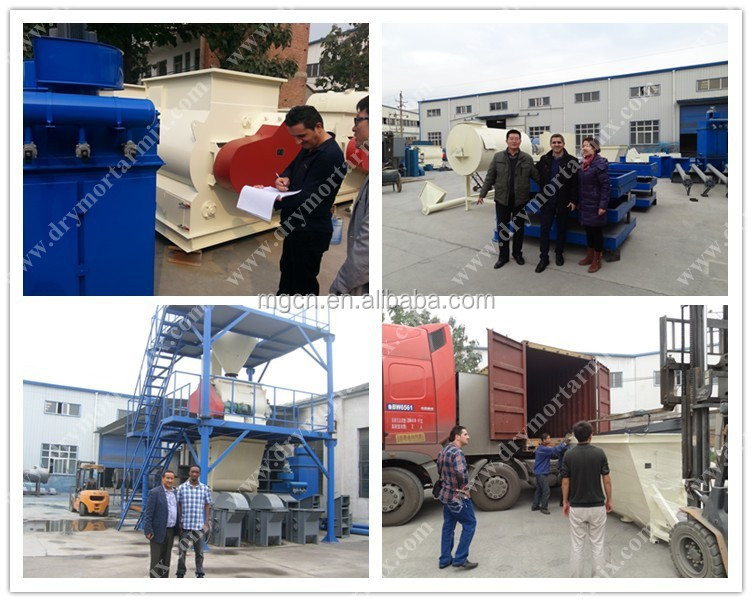 ■ Packaging And Shipping
MG Simple dry mortar production line export: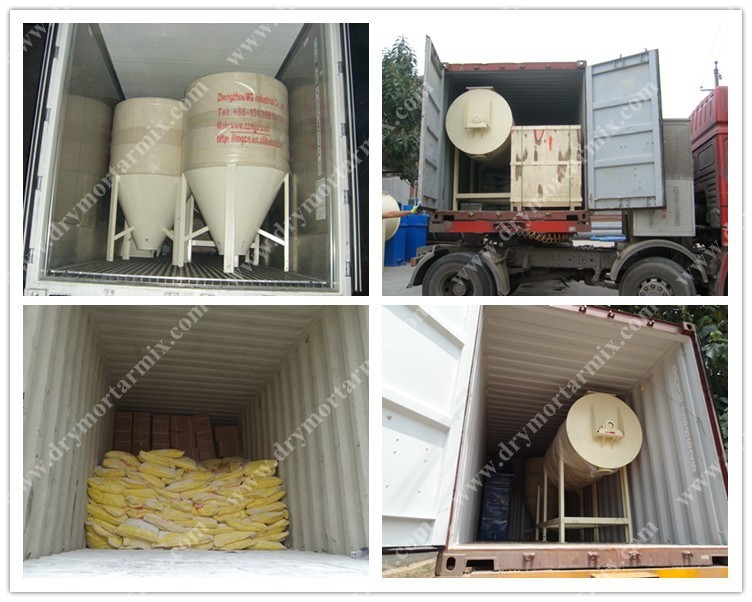 1) Unpon got your inquiry, We will reply to you in 24 hours.

2) Assist clients to prepare for the first construction scheme and supply foundation drawing.

3) Oversea installation and provide technical exchange, train client to operate the machine.

4) Supply spare and accessory parts at favorable price for long-term.

5) Spare part are original, authentic, good quality, can be avaible from stock, and sent to client, immediately by DHL, EMS, Fedex, and by air, gurantee client to receive it in shortest time.

Strict site quality inspection system:

Installation captain inpection: Evaluate the installation level of dry mix mortar production line, Spot QA engineer inspection: Inspect the whole in installation process and key components.

Service engineer inspection: Inspect the debugging and running condition of whole production line.
Profile of Zhengzhou MG Industrial Co., Ltd

Being engaged in the dry powder mixing equipment R&D, production, sales and construction in China more than 16 years, we supply most efficient turnkey solutions to our clients in green building energy-saving insulation and green wall (building) materials manufacturing equipment, production technology and construction program.
Business process:

1, How about the investment of this project?
A: Our engineer can design the dry mortar plant as your requirement and your budget, different tpye dry mortar plant investment are difference.
Low capacity low cost, we will provide you cost effective solution as your requirement.
2, What's the difference between full automatic dry mortar plant and Semi-automatic dry mortar plant?
(1) Semi-automatic dry mortar plant is Chearper than full automatic dry mortar plant.
(2) Semi-automatic dry mortar plant do not need to equip material silos while full automatic type equip silos.
(3) Semi-automatic dry mortar plant is manual feeding and automatic weighing and packaging, full automatic type can realize automatic feeding and packaging.
3, How many person required to operate this dry mortar plant?
A: Usually 2-4 workers are enough to operate this dry mortar plant.
4, What equipment and service you can provide?
A: We can provide you turnkey solution of dry mortar plant from working site planning to dry mortar machines, transportation, installation and training, formula of dry mortars, after sales services, life time techincal support etc.
5, What is the area required for this dry mortar plant?
A: According to different capacity, the capacity required 300-1000m2.
6, What is the total power consumption (KW)of this dry mortar plant?
A: It is about 20-80kw based on the capacity of the dry mortar plant.
7, What is the capacity of your dry mortar plant?
A: We have dry mortar plant capacity from 3-30T/H as your requirement, And also we can customize the machine for you.
8, What is the garantee period?
A: 12 months, with in this period we provide you technical services for free.
9, Can you install the dry mortar plant in my country?
A: Yes, we will send engineers to your country for guiding installation and training your workers to operate the machine.